Menopause Info part 4:
A 10-part series exploring the causes, symptoms, and treatments for Menopause.  Keep an eye out for the next information post…
Exploring Symptoms: Brain Fog:
Memory and Cognitive function can be affected which has a knock-on effect to confidence levels.
Concentration – hot flushes affect concentration levels.
Alzheimer's/dementia: women>men – studies looking at beta amyloid levels, glucose metabolism and grey and white matter volume in the brain.
Established Alzheimer's may be worsened by taking HRT.
Preventative effect if HRT taken before Alzheimer's is established/diagnosed.
Women more likely to develop depression after menopause.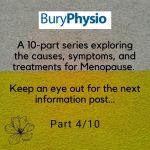 Exploring Symptoms: Skin and hair changes:
Reduction of collagen (a protein found in skin, muscles, tendons, and bone that provides structure and strength).  Face creams that claim to improve collagen – are generally ineffective!
Subcutaneous fat reduces under surface of skin.
Reduced melanocytes – skin/sun damage
Increased hair fallout
Iron supplements can help.
For further advice, exercise, nutrition, or physiotherapy treatment please book an appointment with Anna Clayton (Physiotherapy), Robyn Cardy (Nutrition) and Ben Durham (Personal training/Exercise plan)