We explore the benefits of Pilates…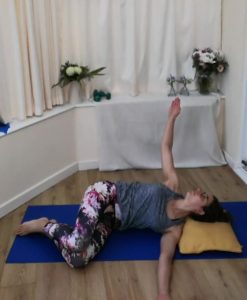 Lumbopelvic stabilisation is a nutshell description Pilates.
Classes can vary as the core foundation exercises devised by Joseph Pilates are modified and adapted to individuals and different patient groups – there are many variations on a theme.
Pilates challenges your central stabilising trunk muscles in a variety of positions and postures, to subsequently work on improving balance, strength, and muscle endurance.
This leads to changes and adaptations in your posture, stability and movement that has a knock-on effect to supporting daily activities and function.
?
How do exercises translate to helping daily activities?
One regular class attendee noted that balancing on one leg to put socks, shoes or trousers on had become easier following modified one-legged balance exercises within class routines. These are performed for a fraction of the class duration, but over time meant she was less likely to feel wobbly and risk falling over.
?
What is all the fuss about?
Many celebrities have endorsed Pilates as a form of exercise to maintain fitness or compliment other activities or training demands.
Pilates has been around for many years and those in the know regularly integrate classes into their weekly routines to maintain the improvements made in their mobility/strength and balance. These elements all help prepare us for the demands of work, sport and home life.
1) If you feel less confident with walking, or use support/stick(s), Pilates exercises look to build muscle strength, muscle memory and stability around the lower limb joints as well as the central trunk – the main stabilising column in the body and base for limb movement and support.
2) For people who have been confined to bed rest following illness, it is a great way to gentle reintroduce mobility through all joints and reduce stiffness.
3) For sport specific activities, Pilates exercises can be adapted to challenge the functional movements your sport or hobby requires, thus reducing the risk of injury or overuse issues.
4) For the weekend warrior/recreational athlete, Pilates maintains mobility, flexibility, strength and coordination and balance to counter over exertions and intermittent bursts of activity that may lead to aches and pains without adequate conditioning.
5) For those embarking on health improvement/weight loss, Pilates can be integrated into routines that challenge the cardiovascular system with higher intensity exercise to raise metabolism (great for fat burning) and muscle toning. On the other hand, sequences work well as a recovery routine to stretch and alleviate from more intense demands.
Yes and no. Pilates can be as simple as body weight exercises on a mat. Small pieces of equipment can be added to challenge balance or work against resistance. These may include theraband, pilates rings, small inflated balls, foam rollers and weighted balls.
For greater variation still, reformers are a super way to apply the mat-based exercises onto larger equipment with greater scope for resistance, mobility and balance challenge.
Bury Physio runs 8 Physio led mat based classes per week (see Pilates timetable for specific sessions) and also offers 1:1 and 1:2 Physio led mat based and/or reformer sessions with Anna, Hayley or Cara.
?
In addition for those who are tentative about exercise, unsure where to start or have received a diagnosis which has knocked their confidence with activity and exercise, our Physiotherapists Hayley Jarvill and Anna Clayton have developed www.specialistpilatesonline.com a subscription Online Specialist Pilates resource which is provides routines for a wide range of long term condition, cancer and sport specific needs as well as general fitness routines.
£10 per month allows you to access the library of classes of varying duration and challenge levels to suit your needs, all in the comfort of your home, or perhaps when you are away/travelling and wish to continue your practice.
?
Contact Bury Physio for further information or a 1:1 introduction with Anna or Hayley
#pilates
#physioledpilates
#rehab
#prehab
#health
#flexibility
#strength
#movement
#posture
#breathing
#relaxation
#toning
#HIIT
#smallequipment
#theraband
#66fit