Pre pandemic Vs post pandemic exercise levels…what are yours like?
Recent research sheds light on activity levels of the population during the pandemic.
Public Health England recently published research results looking into the populations physical activity levels during lockdown, and how these levels have changed since the country has gradually begun to ease restrictions.
During lockdown, Physical activity levels significantly reduced and coincided with increases in sedentary behaviour. The study showed 40% of individuals have yet to return to pre-covid activities and many people have found it difficult to motivate themselves to start exercising again.  Reasons included higher anxiety and feeling deconditioned.  Previous exercise habits had changed and establishing a new routine has felt daunting to some.
The improvement in physical health and mental wellbeing is shown favourably in research evidence relating to physical activity, particularly regarding the management of long covid recovery and other long-term conditions.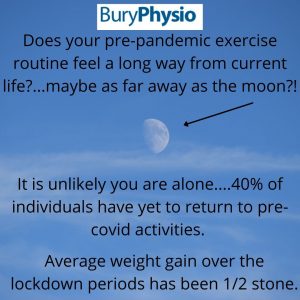 Public Health England continues to recommend people seek to increase physical activity and limit time spent on sedentary tasks to improve our health and weekly activity levels.
At Bury Physio, we can help you start some exercise, or guide you to progress the level you are at, if you feel you have reached a plateau and are not progressing as you have been.  Establishing the right intensity and exercise style for you is the first step.
We offer flexible gym access, tailored activity/exercise programmes, one-to-one and small group training sessions, and a variety of classes to enjoy ranging from chair-based activity to a gentle wellbeing workout.
If your activity levels have dropped a little further than you would like, or you have a specific medical condition that can impact how you exercise leaving you unsure how to exercise safely, we are here to help you.
To book an informal session with Personal trainer Ben Durham, please contact the clinic 01284 748200 or email admin@buryphysio.co.uk
For more information, please visit our website www.buryphysio.co.uk
#exercise #health #healthliving #motivation #activity #fitness #wellbeing #buryphysio