Plantar Fasciitis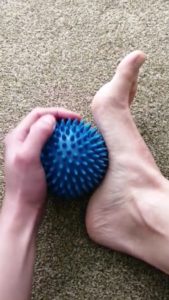 Plantar Fasciitis
If you have experience pain under the arch of the foot it could be caused by Plantar fasciitis which NICE states accounts for 80% heel pain and typically affecting those between 40-60 years of age.
How can we help?
Following assessment, we provide different techniques and treatment which help reduce pain, depending on whether your symptoms are new, or you've had them a while.
Shockwave is effective on reducing pain symptoms, stretching and orthotic foot support advice helps.
The video shows one method of mobilising the fascia with a spikey ball.  Tennis or golf balls are just as good, and you can continue this technique at home to compliment your treatment.
Contact us for more information and to book an assessment with a Chartered Physiotherapist.
Bury Physiotherapy Clinic
Maynewater Lane
Bury St Edmunds
Suffolk
IP33 2AB
Tel:                  01284 748200
Email:              admin@buryphysio.co.uk
Web:                https://www.buryphysio.co.uk
Twitter:            https://twitter.com/Bury_Physio
Instagram:       https://www.instagram.com/buryphysioclinic/
Facebook:       https://www.facebook.com/buryphysio/