Pilates Reformers NEW to the clinic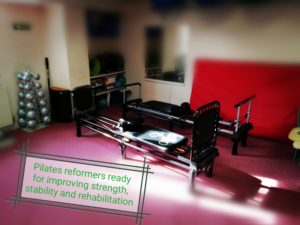 What are they? A Pilates reformer is a specialist piece of equipment that enables you to incorporate Pilates exercises to achieve a more intense workout or functional form of rehabilitation.
The equipment sees the user sitting/lying/standing/kneeling on the sliding platform working against a variable resistance of springs.  This can be done in combination with extras such as small equipment, pulleys a rebounder board or foot bar.
Reformers are great for post-operative low intensity gentle exercise but can also be used to higher levels depending on your goals.
Sessions with Anna or Hayley can be booked on a 1:1 or 1:2 basis.  Packages are available to book the reformers so you can carry out your programme when convenient for you.
Contact us for more information and to book an assessment with a Chartered Physiotherapist.
Tel:                 01284 748200
Email:             admin@buryphysio.co.uk
Website:         https://www.buryphysio.co.uk/appointments/
Twitter:           https://twitter.com/Bury_Physio
Instagram:      https://www.instagram.com/buryphysioclinic/