Menopause info part 9:
A 10-part series exploring the causes, symptoms, and treatments for Menopause.  Keep an eye out for the next information post…
What can I do to help myself, or someone I know experiencing Menopause?
Good opportunity to have a General Health check:
Weight
Blood pressure
Other symptoms
Examination
FBC – check anaemia (via GP/privately)
Thyroid function tests
Vitamin d levels
GP/Specialists rarely perform hormone tests – might do if age 40 but not 49 due to likely fluctuations.
Smear test/mammogram
Poor sleep with menopause so improving sleep/sleep hygiene can help.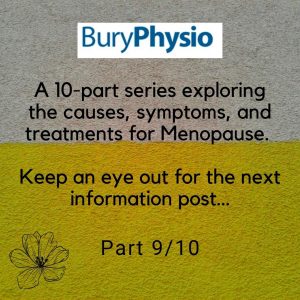 Bury Physio offers a Health MOT to check heart rate, blood pressure, cholesterol, BMI, weight, and functional fitness tests.  After analysing your results, we will further advise you on the most appropriate exercise and/or management programme/treatment to improve any scores that fall short of age specific norms.  For additional menopause related tests, we can refer to your GP.
For further advice, exercise, nutrition, or physiotherapy treatment please book an appointment with Anna Clayton (Physiotherapy), Robyn Cardy (Nutrition) and Ben Durham (Personal training/Exercise plan)