Menopause Info part 6:
A 10-part series exploring the causes, symptoms, and treatments for Menopause.  Keep an eye out for the next information post…
Exploring Symptoms: Muscle mass loss (Sarcopenia)
Sarcopenia = reduced muscle fibre/cell numbers and atrophy (wasting/degeneration) of remaining numbers.
Causes of sarcopenia:
Aging and inactivity
Sub optimal nutrition
Inflammation
Endocrine/hormone issues (IGF-1 Insulin growth factor, thyroid, insulin resistance)
Corticosteroids
Cytokines – inflammation function
Oxidative stress (imbalance of free radicals and antioxidants in the body)
Hypoxaemia – Low concentration of oxygen in the blood (for example anaemia)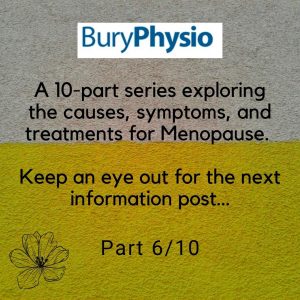 Peak muscle mass values
Peak age 25-35
Maintained between ages 40-49
Declines 4/5th decades.
Loss 12-14% each decade after age of 50
Muscles are a menopausal women's best friend!
For further advice, exercise, nutrition, or physiotherapy treatment please book an appointment with Anna Clayton (Physiotherapy), Robyn Cardy (Nutrition) and Ben Durham (Personal training/Exercise plan)