Managing Osteoporosis…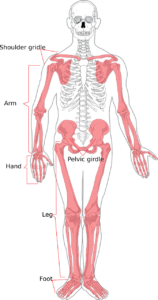 Osteoporosis is a gradual weakening of bone. Fragility fractures are sudden discrete events you may not even notice (versusarthritis.org).
Diagnosed via DEXA scan to establish bone density (speak to your GP if concerned)
500,000 fragility fractures occur in the UK each year
Hip, wrist and spinal bones are most common sites of fractures which can affect day to day activities
How can we help? Starting with correct medication to strengthen bones is one factor (speak to your GP)
As Physiotherapists, our area of expertise in this condition focuses on falls prevention, bone loading and progressive strengthening exercise to help reduce future fractures.
It is important to keep mobile for function and health.
Our gym is well equipped for all levels of activity and fitness levels and we can guide you through a programme and keep you as active as you need to be.
Contact us for more information and to book an assessment with a Chartered Physiotherapist.
Tel:                 01284 748200
Email:            admin@buryphysio.co.uk
Website:        https://www.buryphysio.co.uk/appointments/
Twitter:          https://twitter.com/Bury_Physio
Instagram:     https://www.instagram.com/buryphysioclinic/