Kevin's 60 miles at 60 for Anthony Nolan!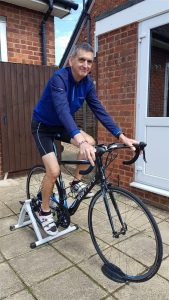 Personal Trainer Kevin Marshall is celebrating VE day today and also turning 60.
As he enters his 7th decade he is completing a virtual Nordic walking relay (having started at 5am today!), followed by a 60 miles cycle ride on the turbo trainer to raise funds for Antony Nolan.
The turbo trainer session will start from 10am and hopefully finish by 2pm!