ITV 'The Games' appearance for Sport Therapist Oliver Graham (Hammer Throw)
Oliver Graham has recently joined the team at Bury Physio Clinic as a Massage Therapist. He is passionate about sport and has been County Champion in hammer, discus and shot put for the last 5 years. He has been competing for the last 3 years as a senior athlete for Shaftesbury and Barnet, a premier division club. Ollie is now part of the GB under 23 squad and is aiming for the British and European Championships over the next few years. His future goals are to compete on the international arena including Commonwealth, World and Olympic Games.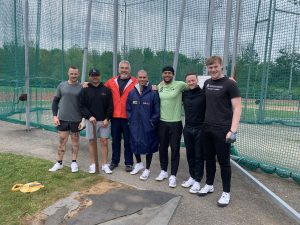 Recently he has been working with ITV on the programme 'The Games'. His involvement was coaching the celebrities involved to throw hammer.
This was an amazing opportunity for him. After working with the celebrities, he found they were interested in the sport and some of them remarked that hammer throwing was one of their favourite events.
The format of the programme is a breath of fresh air for athletes competing in hammer throwing, their sport at last getting the media coverage which has always been lacking.
'The Games' highlights the importance of how physiotherapy and sports massage therapy can impact performance and recovery. Using the two therapies side-by-side has allowed an intensity of training and recovery that would have been near impossible otherwise.
Ollie believes strongly that both Sports Massage Therapy and Physiotherapy promote positive outcomes for people's physical and mental wellbeing, not only in sport but also in everyday life.