FACE TO FACE APPOINTMENTS AT BURY PHYSIO CLINIC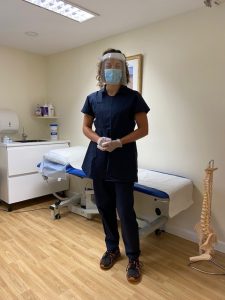 We will be opening a face to face Physiotherapy clinic with Anna Clayton (Senior Physiotherapist/Partner) from Tuesday 19th May with appointments available from 10.30am.  
Please note: Initially this clinic will be available only on Tuesdays, however clinic duration, days, appointment availability and Physiotherapy staff availability will increase with appointment demand, as we work to balance Government/CSP/NHS safety recommendations for social distancing.
Bury Physio continues to maintain best practice with our hygiene and sanitation provision by adhering to the NHS, Government and CSP guidelines.   We are taking every measure to keep our community safe by helping reduce the risk or spread of Covid-19 during this pandemic.
Please visit our homepage www.buryphysio.co.uk for up to date information on available clinics.
General Physiotherapy appointment information:
We ask patients to stay home if feeling sick or not feeling well or have a temperature above 37.5 degrees.
Appointments will be spaced out with 10-15 minutes between each patient, we politely ask you remain in your car in the carpark or in the spaces outside the clinic to minimise people in the clinic.
A member of our team will perform a screening questionnaire with you on your arrival.
We will take a forehead temperature reading, available from the end of May.
We will ask all patients to wash their hands before their appointment, use the
sanitiser provided and wear a mask and gloves during their physio session (disposable products provided; however, you are welcome to bring your own if you prefer).
If you have recently returned from overseas, please isolate for 14 days.
Use your elbow or tissues to cover your cough/sneezes.
We ask you to maintain social distancing rules as recommended by current guidelines.
Our Physiotherapists will be wearing recommended PPE equipment which includes scrubs, apron, latex free gloves, a disposable facemask, and visor for everyone's safety.  Thorough hand washing with soap and alcohol-based hand rub is performed before and after patient contact.
Face to face Physiotherapy appointment criteria:
We will provide face to face appointments for those patients struggling with physical and mental health conditions including:
People suffering with debilitating and deteriorating symptoms/function that cannot be managed remotely.
Pre- and post-surgery rehabilitation and post inpatient treatment needs that support rapid discharge from secondary care/hospital.
Conditions that need hands on treatment that would otherwise result in:

A decline in your physical fitness and ability to participate in regular exercise.
Referral to GP, secondary care or accessing social care provision.
Online Zoom/telephone/skype Physiotherapy appointments:
We will continue to offer the options for telephone/Skype/Zoom and WhatsApp Physiotherapy consultations to those who feel their symptoms would benefit from advice, guidance and exercise management but prefer, or are required, to remain at home.
If you have any concerns or queries about your appointment, please call us on 01284 748200 or email admin@buryphysio.co.uk, anna.clayton@buryphysio.co.uk or hayley.jarvill@buryphysio.co.uk
How to book:
Call: 01284 748200 (messages will be responded to within 24 hours)
Email admin@buryphysio.co.uk
Please note: Online booking is still available; however, it may be necessary to alter the appointment booking depending on clinic availability as noted above.
Kind regards,
The Bury Physio team