Elbow tendinopathy..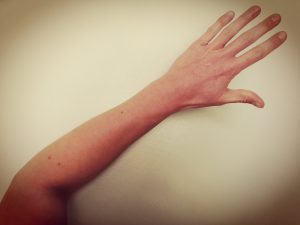 Activities that involve gripping, twisting the forearm or repetitive movements at fingers (such as typing) can all aggravate the tendons that attach to the elbow.  The muscles of the forearm work to bend and extend the wrist and fingers and can be susceptible to irritation if there is too much demand around the muscle/tendon/bone insertion.  Pain can be felt on the inside and outside part of the 'nobbly' elbow bones.  These symptoms have a direct effect on daily tasks and if not treated early, can develop into chronic symptoms.
What can be done?
Reduce inflammation with adequate medication, particularly if you have experience discomfort and pain
Rest as much as is possible
Elbow clasps may be helpful to offload the tendon if you continue/need to use the arm
Stretching the forearm and wrist can help alleviate discomfort and lengthen structures that may be slightly contracted and tight
Gentle massage to the area
Strengthening exercises once pain has settled
How we can help:
We can guide you through these early stages of management to get you back to activity as soon as possible.  Once we can re-open we have additional skills and equipment that can help us help you. In the meantime, contact us for guidance and a tailored exercise programme to get you on your way.
01284 748200
#elbow #tendinopathy #elbowpain #physio #taping #elbowclasp #returntofitness #nopain #strength #stretching #telehealth #buryphysio