Calories…Diet/Nutrition
Calorie labeling is being changed….what do you know about calories?
The Government have passed a bill to change calorie labeling on all food products with the aim to support healthy eating across the UK. This is an important step forward in the drive to encourage healthier eating habits across the nation.
Calories are a unit of energy that the food or drink we consume provides us with.  We need a certain number of calories to fuel our day-to-day activity levels, regardless of whether we add exercise into our day.  The number of calories we need to consume depends on a variety of factors such as age, sex, height, body type (muscle/fat ratios) and activity levels.
Being able to consume enough calories for our daily requirements can be a balancing act with some trial and error.  Not all foods are created equal in terms of the number of calories for the same weight of food.
Logically to achieve weight loss, the body requires creating a deficit in the calorie intake, compared with the energy expenditure, thus resulting on an overall loss.  This can happen with increased activity levels, and/or a reduction in food/energy intake, however it is not always a straightforward process.  Other factors can impact how efficiently this process happens, such as hormone regulation/menopause/chronic illness/medication.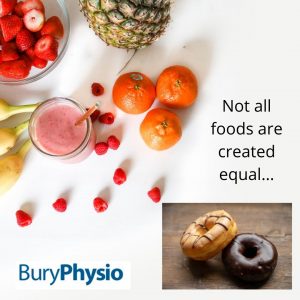 Consideration to the different food groups is key to ensure we are getting adequate nutrients to maintain a healthy lifestyle, and what is consumed falls within your daily calorie intake.  Confusion can arise with not knowing or understanding what to eat and when, as well as correct/optimal portion sizing for your circumstances.  All these factors are quite individual and will be different for males/females/high or low activity levels.
For those unsure where to start, we can help.
Our Personal Trainer/Chartered Nutritionist can help with the following:
Review your current diet
Establish goals ie weight management, energy improvements, food intolerance, hunger after eating a meal, mealtimes etc
Guide and support changes in your current habits
Bust common myths relating to nutrition/food and diets
Should you require a move in-depth review of your diet/nutritional health, our Nutritional Therapist Robyn Cardy can assess your current eating pattern and prescribe a plan to improve the elements you wish to work on.  This may relate to impact of food on certain health issues or highlight how certain food groups and food choices can make a difference to how you feel and how your body responds them.
To book an informal session with Personal trainer Ben Durham or a Nutritional assessment with Chartered Nutritionist Robyn Cardy, please contact the clinic 01284 748200 or email admin@buryphysio.co.uk
For more information, please visit our website www.buryphysio.co.uk
#nutrition #calories #foodchoices #menopause #foodintolerance #chronicillness #exercise #health #healthliving #motivation #activity #fitness #wellbeing #buryphysio