Ben celebrates 5 years Cancer free!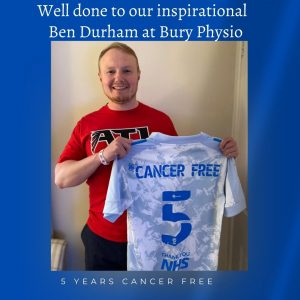 We are thrilled and immensely proud of Ben Durham who is celebrating 5 years cancer free!
Ben joined our Bury Physio team in 2019 and is our onsite Gym manager and fitness coach who inspires everyone around him that exercise really is the best medicine for all ages and all conditions!
Ben was just 30 years old when he was diagnosed with Hodgkin Lymphoma and he used exercise to battle the side effects of gruelling treatments, manage fatigue and mental well-being.
The Bury Physio team are so immensely proud of Ben and he is a true asset to our clinic.
Ben's holistic, approachable, and motivational nature results in great successes both personally and professionally, and now helps people with every medical condition to achieve their best outcomes.
Having a professional know how to apply fitness principles to a client's programme is essential but understanding how people feel when embarking on new exercise/activity with their associated health conditions to contend with, is where Ben excels.
Well done, Ben!
For appointments with Ben, contact 01284 748200 or email admin@buryphysio.co.uk or book online via www.buryphysio.co.uk
#cancerfree #exerciseismedicine #exercise #activity #health #healthandwellbeing #longtermconditions #personalcoach #personaltrainer #guidance #support