Menopause info part 7:
A 10-part series exploring the causes, symptoms, and treatments for Menopause.  Keep an eye out for the next information post…
We focus on causes of reduced bone mass during menopause:
• Ageing
• Inactivity, specifically a reduction in weight bearing activity (walking, resistance exercise)
• Genetics (osteoporosis and family history)
• Other medical issues, for example long term use of steroids such as for treatment of asthma
• Smoking
• Low body weight
• Poor diet
• Colles fracture in osteopenia or osteoporotic cases
The National Osteoporosis Foundation states 'for some women, bone loss happens faster than others. In fact, a woman can lose up to 20% of her bone density during the five – seven years following menopause. If you lose bone (density) quickly, you have greater chance of developing osteoporosis.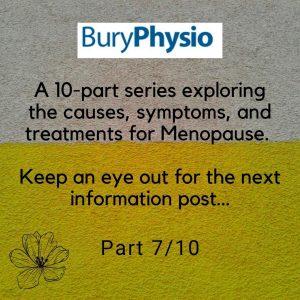 Why is bone mass important?
The reduction in oestrogen during menopause can lead to increased absorption of bone, and a reduction in production of bone.  Normally this bone forming and bone 'eating' cells and production exist as a balanced process of continual renewal and remodelling throughout adult life.
How can I improve my bone mass?
Resistance/strength exercises tailored to you…Pilates classes, general fitness classes, weights, body weight exercises performed in a way that loads the body correctly.  We can guide you through a programme at Bury Physio to maintain or improve strength and loading which will help minimise the risk of developing osteoporosis.
For further advice, exercise, nutrition, or physiotherapy treatment please book an appointment with Anna Clayton (Physiotherapy), Robyn Cardy (Nutrition) and Ben Durham (Personal training/Exercise plan)