Menopause info part 10:
A 10-part series exploring the causes, symptoms, and treatments for Menopause.  Keep an eye out for the next information post…
Treatment options:
Informed choice – in discussion with your GP/Specialist/Gynaecologist based on your medical history and personal preference
ACUPUNCTURE
HRT (oestrogen, progesterone or testosterone replacement via a patch, spray or gel)
Supplements
Medication – for managing mood, sweats or anxiety.
EXERCISE – incredibly important for bone, muscle, and heart health = all over symptom management and general health benefits with the right guidance and programme available via Bury Physio Personal trainer Ben Durham.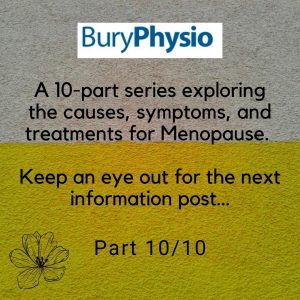 PHYSIOTHERAPY – pelvic floor/bladder retraining
Good NUTRITION
DEXA Scan to check bone density.
Local (topical) oestrogen cream or a pessary (inserted vaginally by GP or specialist nurse)
Ring = a slow-release oestrogen (alternative to pessary)
Vaginal moisturisers and lubricants (ensure it is water based if using condoms as oil based will dissolve/degrade latex!)
Lifestyle changes/stress management/Cognitive behavioural therapy
Awareness and education for others – speak to your family members and/or employer if you find that symptoms negatively affect your work or home life.
For further advice, exercise, nutrition, or physiotherapy treatment please book an appointment with Anna Clayton (Physiotherapy), Robyn Cardy (Nutrition) and Ben Durham (Personal training/Exercise plan)