Joanne Elphinston Movement Systems Course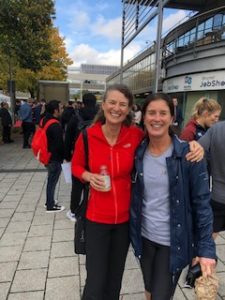 Our Physiotherapist Gertrud Swanevelder recently attended a 4 day JEMS® course held at Brunel University
JEMS® has been created to awaken a new understanding of your body, and show you how to work with it intelligently, respectfully and effectively.
It is used at the highest levels of sporting performance,  in hospitals and clinics, and with people of all ages and physical abilities.
It is built upon the science of movement, rehabilitation and performance, and backed up by twenty five years of unceasing development, innovation, passion and commitment by internationally respected movement performance and rehabilitation expert, Joanne Elphinston.
(photo: Joanne Elphinston with Gertrud Swanevelder)